Pulse Oximeter Fingertip - Saturation Oxygen Monitor Fingertip (SpO2), Pulse Measurement, Pulse Strenght for Adults
Limited-Time Offers, End in:
💥 FREE SHIPPING 💥 ORDER NOW💥
Offer Ends Once The Timer Hits Zero!
💖BUY 1 GET 1 50% OFF >> CODE: NBC50
💖BUY 2 GET 1 FREE >> CODE: NBC1
💖Free Shipping + BUY $60+ GET $10 OFF >> CODE: NB10
💖Free Shipping + BUY $100+ GET $20 OFF >> CODE: NB20
💖Free Shipping + BUY $200+ GET $50 OFF >> CODE: NB50.
customers are viewing this product
PRODUCT DESCRIPTION
ACCURATE AND RELIABLE - The oxygen saturation monitor will determine your SpO2 (Blood Oxygen Saturation), Pulse Rate and Perfusion Index (Pulse Strength) results in 10 seconds or less displayed on its large digital LED screen.

SPORT ENTHUSIASTS - This oxygen monitor fingertip is suitable for mountain climbers, skiers, bikers, aviators or anyone interested in measuring their SpO2 and pulse rate while on the move. NOTE: This device is for Sports & Aviation use only and is not a medical device.

PORTABLE AND LIGHTWEIGHT - This oximeter finger with pulse is weighing only 50 grams, and comes with a lanyard so its easy carried on its own or inside your gym bag or backpack. Attach the included lanyard to the case or directly to the oximeter for easy reach anytime.

READY TO USE OUT OF THE BOX - Fingertip Pulse Oximeter device, 2 AAA Batteries, User manual & a Lanyard for your convenience.

LOW POWER CONSUMPTION - Equipped with two AAA batteries, the finger pulse oximeter fingertip automatically powers off when not in use and delivers up to 24 continuous hours of battery life.
Want to know more about the Oximeter? Check out our blog post:
https://nuope.com/blogs/news/the-pulse-oximeter

About the Pulse Oximeter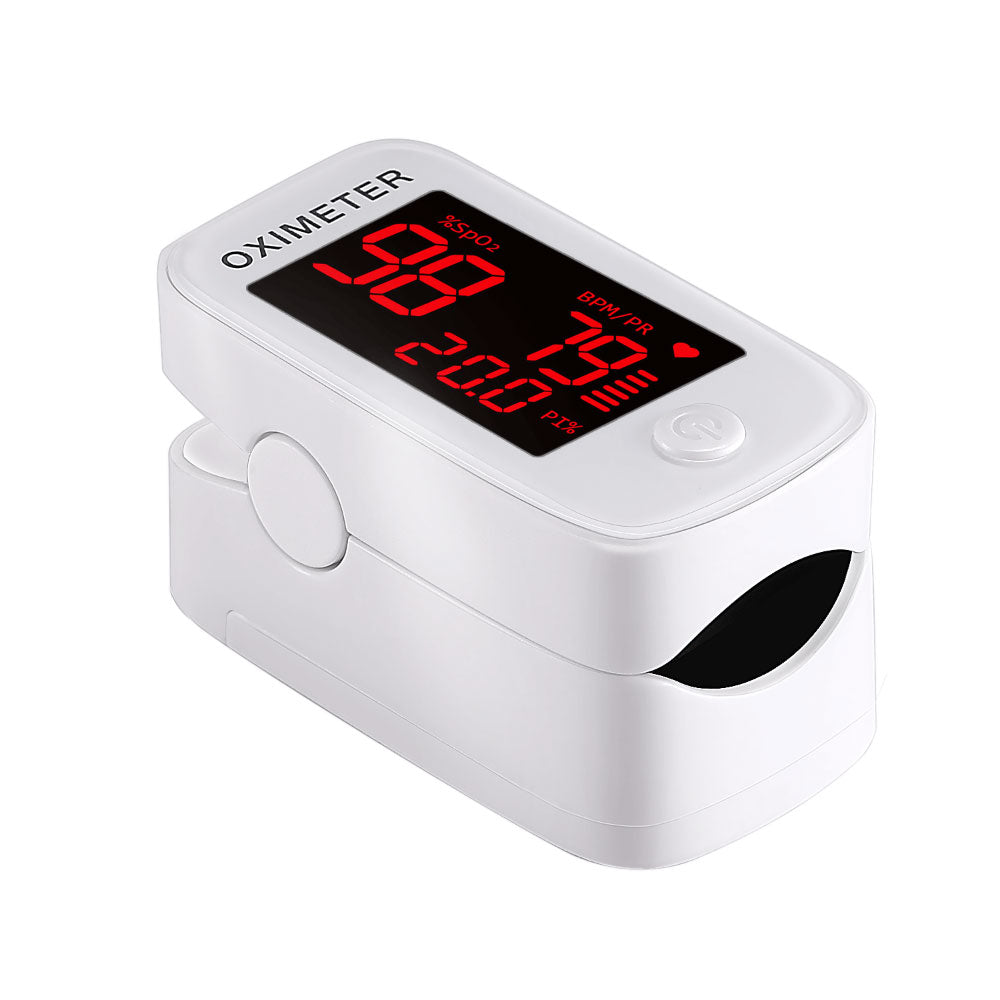 Accurate and Reliable
Accurately determines your SpO2 (Blood Oxygen Saturation level) within +/- 2% deviation, PR (Pulse Rate) and PI (Perfusion Index) within 10 seconds.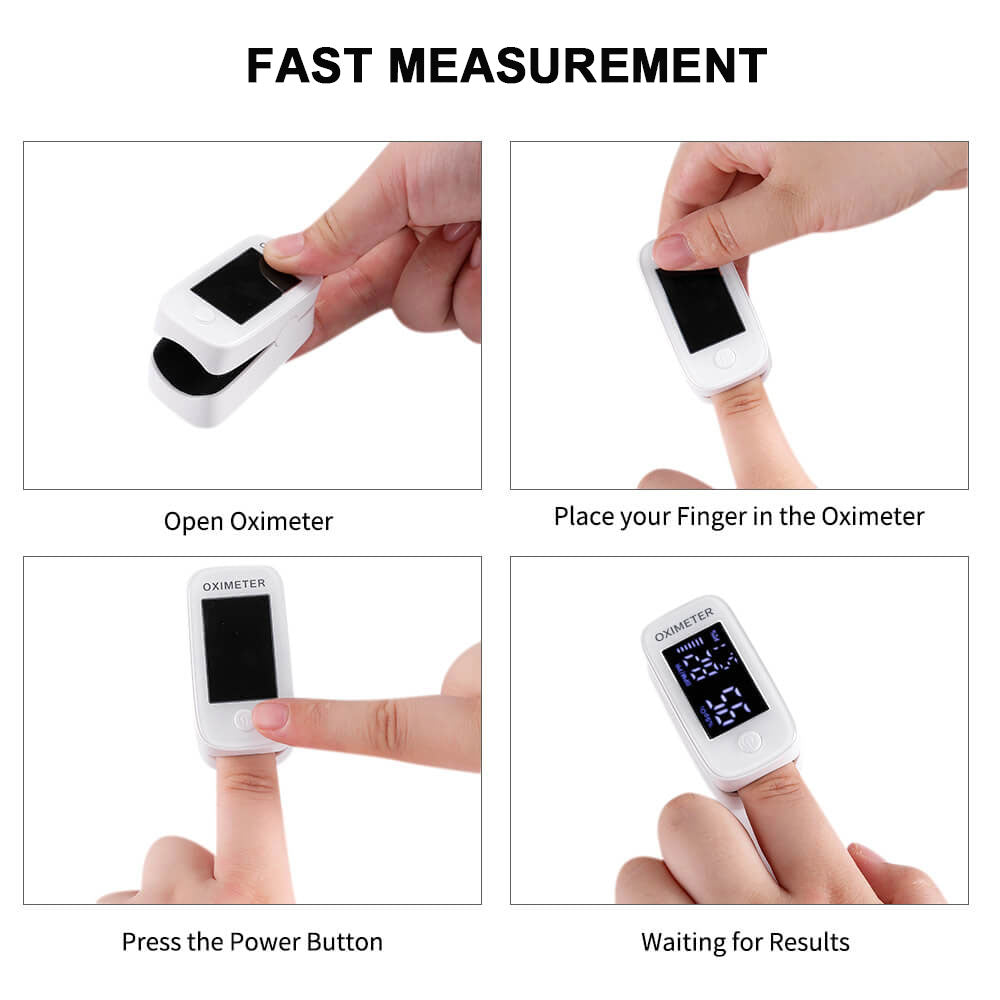 Easy Usage
Clip it on to your finger and turn it on at a press of a button.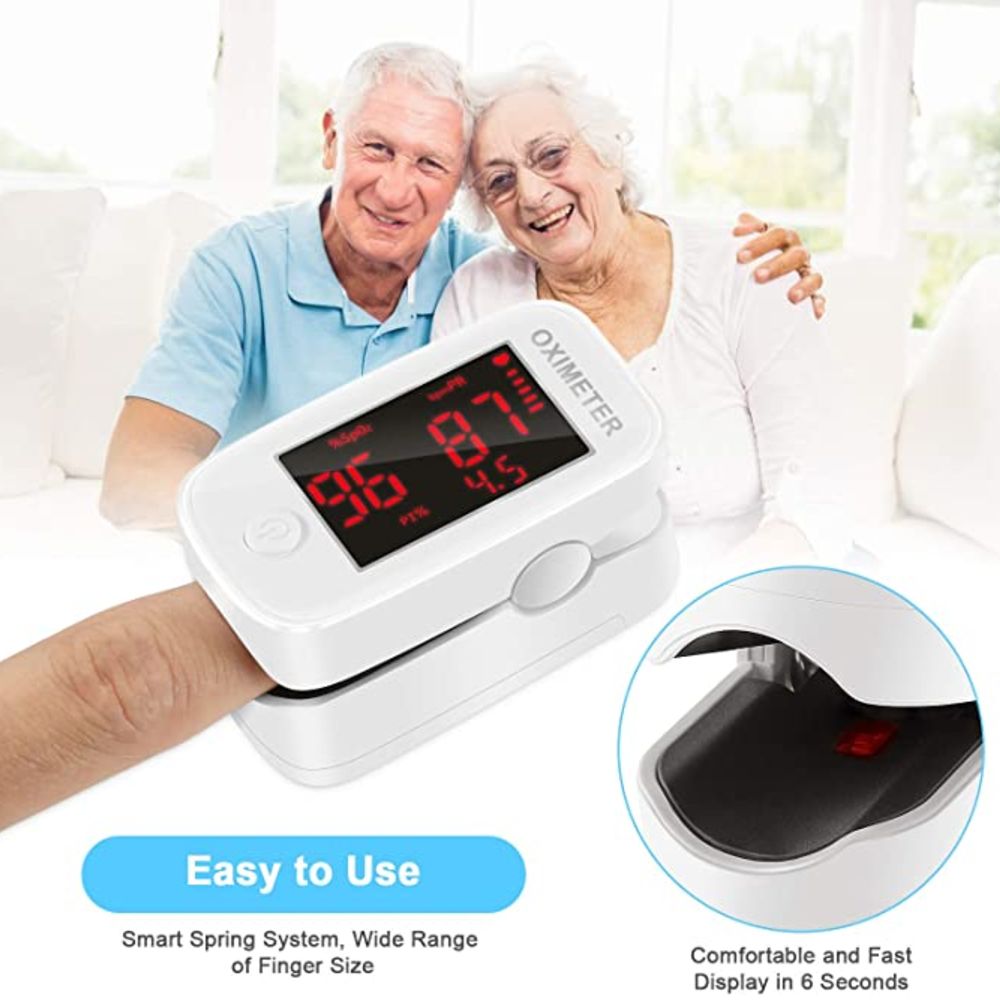 Suitable For All Ages
Finger chamber with SMART Spring System. Accommodates wide range of finger sizes.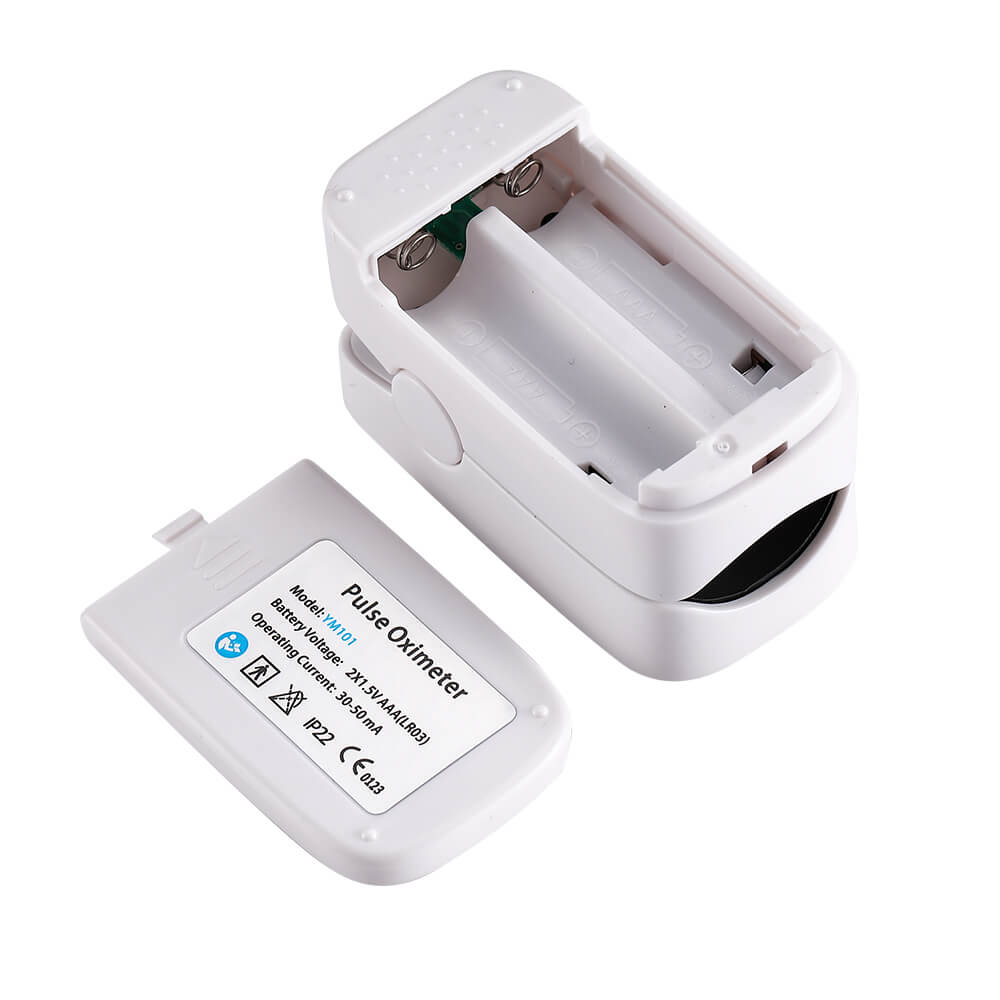 Easy Battery Removal
Our quick snap-off battery cover allows you to place and remove batteries completely hassle-free.
Portable and Easy to Carry
The design and size of the pulse oximeter makes it easier to carry around everywhere you go.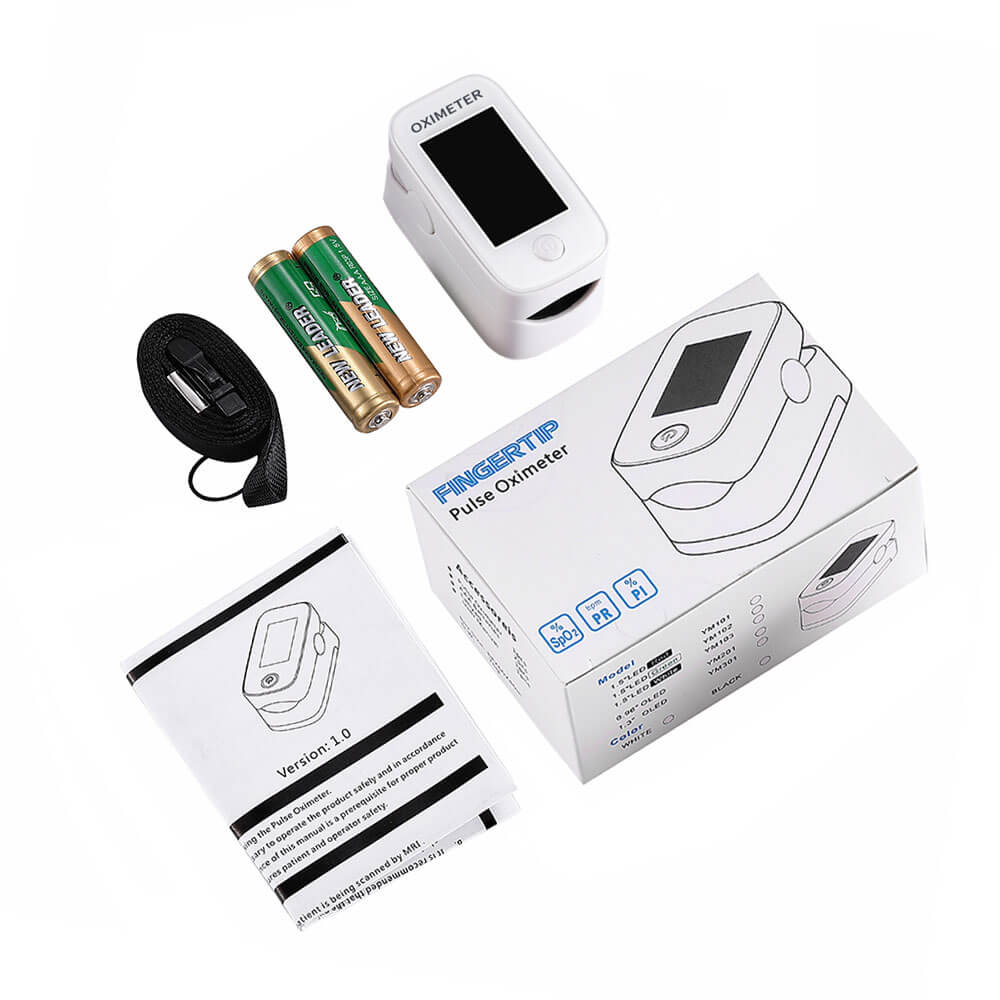 Accessories
Includes 2xAAA batteries that allow you to use the Pulse Oximeter right out of the box, a lanyard for your convenience and a user manual.
Product Introduction video
Frequently Asked Questions
1. What is a Pulse Oximeter?

The Pulse Oximeter is a non-invasive method for monitoring the oxygen saturation level (SpO2) in your blood.

● Normal Oxygen Saturation Level: 94%-99%
● Normal Heart Rate: 60-100 beats per minute
● Perfusion Index value range: 0.02% (very weak pulse) - 20% (very strong pulse)

2. How does Pulse Oximeter works?

The Pulse Oximeter shines two different kinds of light (red and infrared) through a thin part of a human body such as fingertip or earlobe. Blood absorbs lights differently depending on the level of oxygen it contains: oxygenated blood absorbs more infrared light than red light. So by comparing the changes in amounts of red and infrared light received, the device can calculated the SpO2 reading.

3. How accurate is the Pulse Oximeter?

The oxygen level from a pulse oximeter is reasonably accurate. Most oximeters give a reading 2% over or 2% under what your saturation would be if obtained by an arterial blood gas. For example, if your oxygen saturation reads 92% on the pulse oximeter, it may be actually anywhere from 90 to 94%.

4. What is PI reading on a Pulse Oximeter?

PI is an indicator of the relative strength of the pulsatile signal from pulse oximetry and has been found to be a reliable indicator of peripheral perfusion. PI is calculated by dividing the pulsatile signal (AC) by the nonpulsatile signal (DC) times 100, and is expressed as a percent ranging from 0.02% to 20%

5. When is the Pulse Oximeter used?

Pulse Oximetry is used by people who are interested in measuring their SpO2, Perfusion Index and Pulse rate.
Ships worldwide and you will receive a shipping notification by email once your order has been shipped.
Shipping Time:
* For US and European customers: 7-14 business days after shipping.
Total Delivery Time = Processing Time + Shipping Time
Before shipping your order, normally needs 2-4 days to prepare your products, do strict quality-control tests and carefully package the items, so the processing time is separate from the shipping time.
Processing and shipping time estimates do not account for holidays or non - business days. Shipping costs may increase depending on weight, volume, zip code, and shipping method. Shipping method can be selected at checkout.
Express shipping : 3-6 business days after shipping Express shipping is the fastest shipping method available. The shipping fee will be calculated when you are checking out. (* The customer is responsible for all customs fees when required.)
* Customs fees may be required for some international orders, which will be different in each country. The customer is responsible for all customs fees.
* Please be aware that there is a possibility of shipping delay on all international orders. Due to the different Customs regulations in every country, the estimated delivery time may be influenced. All these are out of our control. * The shipping fee will be available when you are checking out.